Before we start, a little disclaimer: there is not one, single best beginner motorcycle out there. What constitutes as 'the best' motorcycle for beginners depends on your specific riding style, what purpose you want a motorcycle for, and your budget, among other factors.
If I were you, I'd ask my rider friends exactly what they thought about it, considering they know you better than I do!
Now that that's out of the way, let me just say, congratulations on deciding to buy a motorcycle! You are now part of this select group of special people who laugh at danger and live life in the fast lane.
Just kidding! Motorcycle riders (at least, the good ones anyway) are some of the safest, most responsible motorists on the road, and for very good reason: riding motorcycles is dangerous. Yes, it's part of the appeal for a lot of people, but more than that, it's the freedom that a motorcycle gives a person that makes it so alluring.
But freedom comes at a price. Before you even start hitting the blacktop in your brand new two-wheeled machine, I highly suggest you spend some time in a motorcycle school, or take classes with Motorcycle Safety Foundation (take their Basic Rider Course, which covers all the essentials a beginner motorcycle rider needs).
To make it easier, we've broken down our list to what we feel is like the three most common types of motorcycles out there: standard/naked, sport, and cruiser. We'll discuss more about each type later on.
We're going to try and keep this list short so as not to give you analysis paralysis. Remember: this is going to be your FIRST motorcycle, which means that you will ultimately have the final say and we want you to do as much research as possible. Our list is just to guide you and give you the best beginner motorcycles per type based on our expert opinions.
Without further ado, here are some of the best beginner motorcycles out there for the newbie rider.
Best Beginner Motorcycles: Standard/Naked
Also known as roadsters, standard/naked motorcycles are –at least in our opinion –the best beginner motorcycle, and for good reason. They are versatile, light, and perfect for daily commutes.
Standard/naked bikes are built for a neutral riding position. That is, the rider is required to sit upright, as opposed to a reclined position when riding cruisers, and a forward-leaning when riding sports bikes.
Standard/naked bikes are great for beginners for another reason: they're easily modifiable. Once you learn how to use one, you can start adjusting it and adding bells and whistles to soup it up and make it look the way you want to.
While it's always best to start with a lower engine displacement when you're starting out, you can opt for a higher displacement with standard/naked bikes because of how easy it is to use. Think of it as a training bike for when you start going for cruisers or sports bikes.
Here is our top pick for the best beginner motorcycles of the standard/naked type:
Yamaha SR400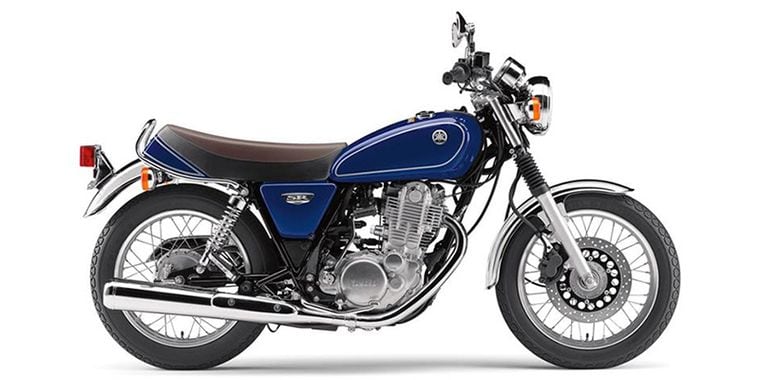 The Yamaha SR400 is easily one of the best standard/naked motorcycles for the newbie rider because of its ease-of-use, mid-range displacement, versatility, and great price range. It's a 5-speed 399cc motorcycle with mid-range seat height. Too much lingo? No worries, let's break it down:
5-speed means it's a 5-speed transmission, which means it can go through different speeds depending on your need, while 399cc is the engine displacement. In most highways across the United States, the legal engine size for freeways is 49/50cc, but for you to reach highway speeds, you'll need something at the 250-400cc and above.
A mid-range seat height means that the seat is positioned at around 30 inches, which is great if you're just starting to ride. It gives you a comfortable seating position, which, coupled with the SR400's wide and plush seat cushion, offers a comfy spot to sit on. This is important if you're going on long rides.
The SR400 is also gorgeous: it features a retro, 70s-inspired design that incorporates a slim and narrow frame with an air-cooled engine that averages 66 miles per gallon. The bike also features a kick-start function that melds perfectly with its retro design.
While most modern motorcycles usually have an electric push-start function, the SR400 foregoes that for something a little more traditional. Personally, I think is a great way to encourage newbie riders. After all, there's nothing quite like kicking a motorcycle to life.
Best Beginner Motorcycles: Cruisers
When you think 'cruiser' bikes, you're probably thinking of those big, loud, aggressive Harleys barreling down the highway. Driven by huge, bearded men wearing leather vests, looking like modern-day Vikings. You wouldn't be wrong, because cruisers motorcycles are meant specifically for all-day rides on highways.
They are big, they are powerful, but they're not the fastest. As its name suggests, this type of motorcycle is best for cruising at leisurely speeds. Cruisers are heavier than standard/naked and sports bikes, and they usually have a lower center of mass.
Cruisers usually have a reclined seating position to make it comfortable, as it's meant for riding across great distances and for hours on end. They are a good option for beginner riders who have had some experience with standard or naked bikes and want something that they can use for longer rides.
This doesn't mean you can't have a cruiser for a first bike. Various manufacturers out there have started building cruiser bikes specifically for newbie riders, which makes sense. If your first few rides are on a beautiful cruiser while going down some of the great highways of America (as opposed to sitting on a standard bike in city traffic), I'm pretty sure it's going to be love at first rev.
Here is our top pick for the best beginner motorcycles of the cruiser type:
Honda Rebel 500
Let me begin by saying that the Honda Rebel 500 is a controversial bike for many riders. Critics say that it's not a real cruiser because of how light it is and its unimpressive engine –at 471cc. Cruisers should have that loud, scary rumble whenever you rev the engine, but the Rebel 500 doesn't have that (this is important for some riders). And while the bike does fit the cruiser aesthetic (its all-black or grey matte finish is sexy, IMHO!), the engine doesn't really have a lot of power or acceleration.
But here at Old Engine Shed, we believe that not all cruisers have to be this loud, obnoxious thing. After all, not every cruiser needs to be a Harley, and if you're a first-time rider looking for a motorcycle to just ride down the highway, then the Rebel 500 is it.
It has the bells and whistles of a modern motorcycle: an electric push-start, great MPG (miles per gallon), and a low riding seat (27 inches) that makes it perfect for both experienced and inexperienced riders. Not to mention riders of all sizes (although it's more comfortable for shorter riders), and of course, ABS, or anti-lock braking system.
Despite the modernity, however, the Rebel 500's fuel gauge remains lean: it has a speedometer, and odometer, a gear indicator, a check-engine light, and…that's it. But hey, if you're a beginner motorcycle rider, that's all you're going to need anyway!
Best Beginner Motorcycles: Sport
Built for fast acceleration and hard cornering, sports bikes are the athletes of the motorcycle world: they are lean, mean, and meant to go fast. These are the bikes you see bolting through moto GP and street races. They're not the most practical bikes out there – comfort and fuel economy are sacrificed for speed –but lately, many manufacturers have started building sports bikes that can be used for daily commutes and city riding.
We're of the opinion that sports bikes aren't exactly beginner-friendly: they're built specifically for racing. They're meant to go fast and they're meant for riders who are experts at, and are comfortable with, cornering low and aggressive. However, this doesn't mean that you shouldn't get a sports bike as a first bike. You can use it to learn how to ride a motorcycle so long as you take all the necessary precautions and riding lessons beforehand.
Sport bikes are built to be ridden with a forward seating position for better control and aerodynamics, and it's so much lighter than the other two types of motorcycles. That being said, I personally wouldn't recommend getting this for a first bike, but if you're up for a little danger and excitement, then this is the one for you.
Here is our top pick for the best beginner motorcycle of the sports type:
Kawasaki Ninja 300
View this post on Instagram
As far as sports bikes go, the Kawasaki Ninja 300 has a slightly taller seat height, a lower engine displacement, and an overall much comfortable and versatile ride. It has enough engine power to make you go fast without losing control but it's easy enough to use that you can use it to ride from the suburbs to the city everyday.
Call me an old coot, but for me, riding a motorcycle is all about safety. Yes, going down the highway like a bat out of hell is cool, but if you're not being safe about it, then you're being a danger to yourself and the people around you. The Kawasaki 300 offers a lot of safety features (like after-market ABS) while still providing beginner motorcycle riders their need for speed.
It's lightweight, easy-to-handle, great value-for-money, and a great introduction to the world of sport bikes. Think of it as a gateway drug: it's not as dangerous as high-powered supersports nor is it as difficult to handle, but it gives you a preview of just how fast a human person can go on two-wheels.
Take the Kawasaki 300 out for a spin a few times and the next thing you know you'll be forking over thousands of dollars for an upgrade to a faster, more powerful sport bike.
So there you have it, our recommendations for the best motorcycles for beginners. Whatever you choose, always think of your safety on the road: take professional lessons and choose a motorcycle style that you'll feel comfortable taking on the road.